http://nord.twu.net/acl/thirdway.html
The Anti-Communitarian League (ACL)
Grassroots Research & Analysis of the Ultimate Third Way
[ HOME ] -- [ Research ] -- [ Contact ]
---
The Ultimate Third Way
by Niki Raapana, Updated March 18, 2005

The Third Way is another term used to define communitarianism and Civil Society (Dana Milbank, Washington Post (2001)). Third Way politicians claim they seek to find a middle ground between the far-right and the far-left. They identify the "new" American responsibilities to the "new" communities.

Third Way philosophers, politicians, gurus and Presidential advisers are included in all organizations devoted to training Americans (and all nations) to incorporate their modern version of "democratic ideals." These ideals include a global database of human capital assets, mandatory citizen participation in "rebuilding the world," eliminating national borders, and most importanly, establishing a stronger, central global government (made up entirely of Third Way "thinkers").
The Third Way dialectic:

Individual Liberty versus Communism equals= Communitarianism
What is anticommunitarian "thinking"?

On March 17, 2005, the ACL created the first definition for anticommunitarian to fill that gap in your dictionary:

anticommunitarian, noun : 1. one who recognises the untenable foundations for political communitarianism; 2. a principled oppositionist to the synthesized solutions presented by the Communitarian Network; 3. legal resister to communitarian plans, programs and laws that abolish legitimate national governments; 4. in the United States, a member of a movement geared toward non-participation in deadly racial/cultural/religious conflicts promoted by dialectical ideologists.


---

What is the Ultimate Third Way?

About the Third Way by the New Democrats online. "On Sunday, April 25, 1999, the President Clinton and the DLC hosted a historic roundtable discussion, The Third Way: Progressive Governance for the 21st Century, with five world leaders including British PM Tony Blair, German Chancellor Gerhard Schroeder, Dutch PM Wim Kok, and Italian PM Massimo D'Alema, the First Lady Hillary Rodham Clinton and DLC President Al From... The Third Way philosophy seeks to adapt enduring progressive values to the new challenges of the information age. It rests on three cornerstones: the idea that government should promote equal opportunity for all while granting special privilege for none; an ethic of mutual responsibility that equally rejects the politics of entitlement and the politics of social abandonment; and, a new approach to governing that empowers citizens to act for themselves."

The "idea" of using a Third Way system to resolve the 150 years of constant conflict between the uncompromising right and left was introduced to the world by three countries: England, Israel, and the United States. It was prompted by either British Prime Minister Tony Blair or U.S. President William Jefferson Clinton. (It was also promoted by quasi-German Chancellor Shroder and the Soviet Union's Mikhail Gorbachev and according to some anti-globalist sources it was the Dutch who invented the term, as we see in this article about Prince Bernhard of the Netherlands - personal background and his part in starting the Bilderberg Conferences.)

It's such a vague term. What does it stand for? Is it just a silly joke? Maybe these third way news clips can explain it. Is there a Third Way to Tame the Court?

THE THIRD WAY: IS IT FOR REAL? Republicanmainstreet.org explains how achieving bipartisan Marxist consensus replaces the outdated, phony conflict between the Repubs and the Dems.


---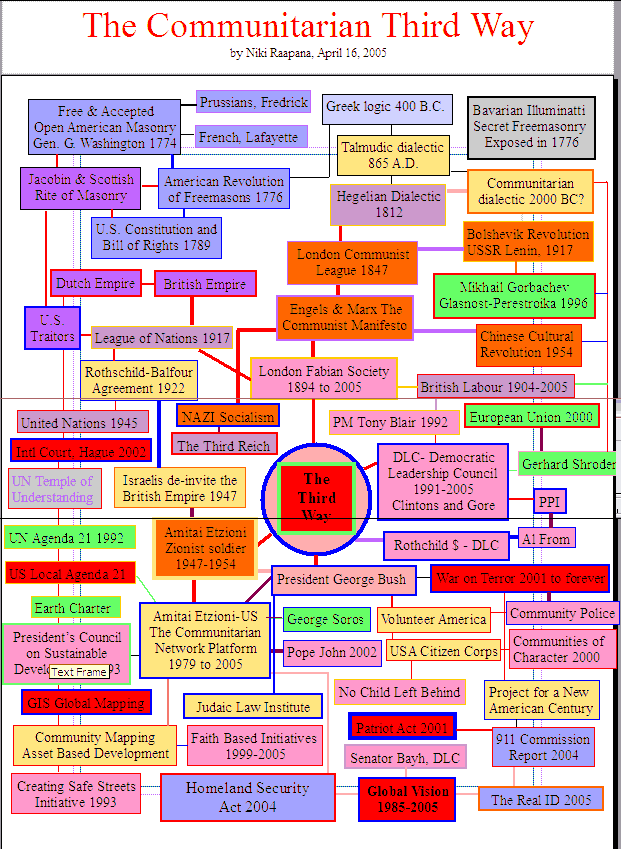 ---
How do the British define the Third Way?

"Third Way is a political party based in Britain which advocates a practical decentralisation of power through constitutional reform and the creation of a society in which wealth is more equitably distributed.

"A party rather different from the rest, Third Way combines democratic socio-economic reform and inclusive nationalism with co-operative internationalism and ecological awareness; supporting the right to genuine self-determination for peoples throughout the world. The resultant synthesis, still evolving, offers an alternative approach to politics -- a new perspective, in contrast to the failed and outdated dogma of past and present governments...."
thirdway.org.

How does the American opposition define it?

"The plan to usher in the Third Wave rests on four pillars.
1. Get rid of or radically reform the US Constitution
2. Replace it with a direct or semi-direct democracy.
3. Replace majority rule with minority rule
4. Improve government efficiency through a management tool called decision division."

The Third Way Part VI: Eradicating the US Constitution by design By Steve Farrell, web posted April 10, 2000.

---
Current Third Way News:

The DLC is the branch of the Democratic Party called the "new" Democrats. Clinton was a Third Way Communitarian Democrat. Founded in 1990 by Sir Evelyn de Rothschild, Communitarian William Glaston, Al From and Michael Steinhart, the DLC's goal is to "define the ultimate Third Way."

The new Third Way Senate Advisory Board was expected to unveil their agenda in early 2005. Now we're told it's Going Nowhere -- The DLC Sputters to a Halt by Ari Berman in The Nation on March 3, 2005.

The New Democrats promote the communitarian Third Way platform. Here's their list of change agents across America as of March 3, 2005:

Jim Aldinger, Council Member, Manhattan Beach CA Dede Alpert, State Senator, CA Phil Angelides, State Treasurer, CA Patrice Arent, State Senator, UT David Aronberg, State Senator, FL Toni Atkins, City Councilmember, San Diego CA Loranne Ausley, State Representative, FL Janice Bacon, Morgan County Commissioner, IN Brian Baird, U.S. Representative, WA Thurbert Baker, State Attorney General, GA Brenda Barger, Mayor, Watertown, SD Gonzalo Barrientos, State Senator, TX Viola Baskerville, State Delegate, VA Max Baucus, U.S. Senator, MT Evan Bayh, U.S. Senator, IN Chris Beck, State Representative, OR Ralph Becker, State Representative, UT Marshall Bennett, State Treasurer, MS James Bennett, City Council, St. Petersberg FL Shelley Berkley, U.S. Representative, NV Ethan Berkowitz, House Democratic Leader, AK Barbara Blanchard, County Legislator, Tompkins County NY Patrica M. Blevins, State Senator, DE Marty Block, Community College Trustee, San Diego CA Alice Borodkin, State Representative, CO Lisa Boscola, State Senator, PA Betty Boyd, State Representative, CO David Braddock, State Representative, OK Daniel Brady, State Senator, OH Zach Brandon, City Councilmember, Madison WI Bob Brink, Delegate, VA John Y. Brown, Secretary of State, KY Matt Brown, Secretary of State, RI Don Brown, Jr., City Councilman, Louisville, CO Polly Bukta, State Representative, IA Chuck Burris, Mayor, Stone Mountain, GA Cruz M. Bustamante, Lieutenant Governor, CA Robert Butkin, State Treasurer, OK Thomas Campbell, State Delegate, WV Jane Campbell, Mayor, Cleveland OH Roberto Canchola, Superintendent of Schools, Santa Cruz Co., AZ Maria Cantwell, U.S. Senator, WA Lois Capps, U.S. Representative, CA Russ Carnahan, U.S. Representative, MO Tom Carper, U.S. Senator, DE Adolfo Carrion, Borough President, Bronx NY Jo Carson, State Representative, AR Karen R. Carter, State Representative, LA Ed Case, U.S. Representative, HI Ben Chandler, U.S. Representative, KY Nancy Chard, State Senator, VT Ken Cheuvront, State Senator, AZ Carol Chumney, Council Member, City of Memphis TN Ken Clark, State Representative, AZ Paul Clark, Town Supervisor, West Seneca NY Hillary Clinton, U.S. Senator, NY Martha Coakley, District Attorney, Middlesex County MA Steve Cohn, City Councilmember, Sacramento CA Michael Coleman, Mayor, Columbus, OH Fran Coleman, State Representative, CO Patrick Colwell, State House Majority Leader, ME Kathleen Connell, State Controller, CA Kent Conrad, U.S. Senator, ND Christopher Coons, Council President, New Castle Co., DE Roy A. Cooper III, Attorney General, NC Lou Correa, State Assembly Member, CA Dolores Coulter, Mayor, Barnegat Township NJ Cathy Cox, Secretary of State, GA Joseph Crowley, U.S. Representative, NY Chris Cummiskey, State Senate Assistant Leader , AZ Don Cunningham, Secretary, Department of General Services, PA J. Joseph Curran, Attorney General, MD Lou D'Allesandro, State Senator, NH Richard D'Amato, State Delegate, MD Ruth Damsker, County Commissioner, Montgomery Co., PA Preston Daniels, Mayor, Des Moines IA Jim Davis, U.S. Representative, FL Susan Davis, U.S. Representative, CA Ray Davis, Registrar, Stafford County VA Nadia Davis, School Board Vice President, Santa Ana, CA Artur Davis, U.S. Representative, AL Ryan Deckert, State Senator, OR Rocky Delgadillo, City Attorney, Los Angeles, CA Peter Derby, Trustee, Irvington NY Christopher Dodd, U.S. Senator, CT Byron Dorgan, U.S. Senator, ND Jim Doyle, Governor, WI Doug Duncan, County Executive, Montgomery County MD Joseph Dunn, State Senator, CA Michael Easley, Governor, NC Doug Echols, Mayor, Rock Hill SC W.A. Drew Edmondson, Attorney General, OK Rahm Emanuel, U.S. Representative, IL Eliot Engel, U.S. Representative, NY Bob Etheridge, U.S. Representative, NC Robert Faucheux, State Representative, LA Dianne Feinstein, U.S. Senator, CA John Fernandez, Mayor, Bloomington IN Barry R. Finegold, State Representative, MA Eric Fingerhut, State Senator, OH Michael Finifter, State Delegate, MD Joan Fitz-Gerald, State Senator, CO Michael Fitzgerald, State Treasurer, IA Jamie Fleet, City Councilman, Gettysburg PA Elizabeth G. Flores, Mayor, Laredo, TX Dean Florez, State Assemblymember, CA Romanie Foege, State Representative, IA Harold Ford, Jr. , U.S. Representative, TN Dan Frankel, State Representative, PA Shirley Franklin, Mayor, Atlanta GA John A. Fritchey, State Representative, IL Douglas F. Gansler, State's Attorney for Montgomery Co., MD Michael Garcia, State Representative, CO Jim D. Garner, State Representative, KS Steven A. Geller, State Senator, FL Allen Jay Gerson, Council Member, New York City NY Gabrielle Giffords, State Senator, AZ Glen D. Gilmore, Mayor, Hamilton NJ Michael Golden, Borough Council Member, Jenkintown PA Jeff Gombosky, State Representative, WA Ron Gonzales, Mayor, San Jose, CA Phil Gordon, City Councilman, Phoenix, AZ Ken Gordon, State Senator, CO Jennifer Granholm, Governor, MI Darlene Green, City Comptroller, St. Louis, MO Ron Greenstein, State Representative, FL James S. Gregory, City Councilman, Bethlehem, PA Wendy Greuel, City Council, Los Angeles CA Daniel Grimes, City Council, Goshen IN Peter C. Groff, State Representative, CO Daniel Grossman, State Senator, CO Ken Guin, Majority Leader, AL Bob Hagedorn, State Senator, CO Karen Hale, State Senator, UT DeAnna Hanna, State Senator, CO Michael J. Hare, Council Member, Wilmington DE Jane Harman, U.S. Representative, CA Jeff Harris, State Representative, MO Patrick Henry Hays, Mayor, North Little Rock, AR Martin J. Heft, First Selectman, Chester CT Robert Henriquez, State Representative, FL Leigh Herington, Senate Democratic Leader, OH Stephanie Herseth, U.S. Representative, SD Thomas Hickner, County Executive, Bay County, MI Brian Higgins, U.S. Representative, NY Richard Hildreth, Mayor, Pacific WA Debra Hilstrom, State Representative, MN Bob Holden, Governor, MO Rush Holt, U.S. Representative, NJ Helen Holton, City Council Member, Baltimore, MD Darlene Hooley, U.S. Representative, OR Sam Hoyt, State Assemblymember, NY Dave Hunt, State Representative, OR Ross Hunter, State Representative, WA Geri Huser, State Representative, IA Daniel Hynes, State Comptroller, IL Jay Inslee, U.S. Representative, WA Thomas Irvin, Commissioner of Agriculture, GA Steve Israel, U.S. Representative, NY Robert Jackson, State Senator, KY Michael Jackson, State Representative, LA Gilda Z. Jacobs, State Senator, MI Wendy Jaquet, State House Minority Leader, ID Nicholas Jellins, Mayor, Menlo Park, CA Douglas Jennings Jr., House Democratic Leader, SC Tim Johnson, U.S. Senator, SD Robin Johnson, Alderman, Monmouth IL Steven B. Jones, State Representative, AR Donald Jones, Council Member, Jefferson Parish LA Patty Judge, Secretary of Agriculture, IA Charlie Justice, State Representative, FL Tim Kaine, Lt. Governor, VA Vera Katz, Mayor, Portland, OR Steve Kelley, Senate Majority Whip, MN Randy Kelly, Mayor, St. Paul, MN Joseph E. Kernan, Governor, IN John Kerry, U.S. Senator, MA Lynn Kessler, State House Democratic Leader, WA Marjorie L. Kilkelly, State Senator, ME Kwame Kilpatrick, Mayor, Detroit, MI Ron Kind, U.S. Representative, WI Victor King, Trustee, Glendale, CA Herb Kohl, U.S. Senator, WI Richard Kriseman, City Councilman, St. Petersburg, FL Annie Kuether, State Representative, KS Rosalind Kurita, State Senator, TN Eric LaFleur, State Representative, LA Mary Landrieu, U.S. Senator, LA Leah Landrum Taylor, Assistant Minority Leader, AZ Patricia Lantz, State Representative, WA Peter Larkin, State Representative, MA Rick Larsen, U.S. Representative, WA John Larson, U.S. Representative, CT David Lemoine, State Representative, ME Joe Lieberman, U.S. Senator, CT Blanche Lincoln, U.S. Senator, AR Duane E. Little, Assessor, Shoshone Co., ID Gary Locke, Governor, WA Charles Love, School Board Chairman, Hamilton Co., TN Frana Araujo Mace, State Representative, CO Alice Madden, State Representative, CO Scott C. Maddox, Mayor, Tallahassee, FL Louis Magazzu, Freeholder, Cumberland County NJ Dannel P. Malloy, Mayor, Stamford, CT Matthew Mangino, District Attorney, Lawrence Co., PA Jennifer Mann, State Representative, PA Steve Marchand, City Councilman, Portsmouth NH Jack Markell, State Treasurer, DE Lisa Tessier Marrache, State Representative, ME Rosemary Marshall, State Representative, CO Barbara Matthews, Assembly Member, Tracy CA Carolyn McCarthy, U.S. Representative, NY Kevin McCarthy, State Representative, IL Kevin McCarthy, State Representative, IA Kenneth McClintock, State Senator, PR Bill McConico, State Representative, MI Matt McCoy, State Senator, IA Sharon McDonald, Commissioner of Revenue, Norfolk, VA Mike McIntyre, U.S. Representative, NC Gregory Meeks, U.S. Representative, NY Jules Mermelstein, Township Commissioner, Upper Dublin, PA Dolores Mertz, State Representative, IA Juanita Millender-McDonald, U.S. Representative, CA Jonathan Miller, State Treasurer, KY Carl Miller, State Representative, CO Tom Miller, Attorney General, IA Doug Milliken, Treasurer, Centennial CO Ruth Ann Minner, Governor, DE Keiffer Mitchell, Jr., City Councilman, Baltimore, MD Dennis Moore, U.S. Representative, KS Richard Moore, State Senator, MA Richard H. Moore, State Treasurer, NC Mike Moore, Attorney General, MS Jim Moran, U.S. Representative, VA John Morrison, State Auditor, MT Eva Moskowitz, City Council Member, New York City, NY Charles A. Murphy, State Representative, MA Pat Murphy, State Representative, IA Ed Murray, State Representative, WA Therese Murray, State Senator, MA Ronnie Musgrove, Governor, MS George Nakano, State Assembly Member, CA Janet Napolitano, Governor, AZ Bill Nelson, U.S. Senator, FL Ben Nelson, U.S. Senator, NE Gavin C. Newsom, Board of Supervisors, San Francisco CA Alice Nichol, State Senator, CO John O. Norquist, Mayor, Milwaukee, WI Michael Nutter, City Councilman, Philadelphia, PA Martin O'Malley, Mayor, Baltimore, MD Michael A. O'Pake, State Senator, PA Barack Obama, U.S. Senator, IL Norman Oliver, City Councilman, Wilmington, DE Marc R. Pacheco, State Senator, MA Alex Padilla, City Councilman, Los Angeles, CA Alfred Park, State Representative, NM Sally Pederson, Lieutenant Governor, IA William Peduto, City Councilmember, Pittsburgh PA David Pepper, City Council, Cincinnati OH Beverly Perdue, Lieutenant Governor, NC Eddie Perez, Mayor, Hartford CT Ed Perlmutter, State Senator, CO Scott Peters, City Councilman, San Diego, CA Bart Peterson, Mayor, Indianapolis IN Janet Peterson, State Representative, IA Anthony Petrucci, County Commissioner, Dauphin Co., PA Terry Phillips, State Senator, CO Gregory Pitoniak, Mayor, Taylor, MI Jeffrey Plale, State Senator, WI Tom Plant, State Representative, CO Margaret Planton, Mayor, Chillicothe, OH Charles Potter Jr., Council Member, Wilmington DE Ray Powell, Commissioner of Public Lands, NM Debra Powell, Mayor, East St. Louis, IL David Price, U.S. Representative, NC Mark Pryor, U.S. Senator, AR Brian Quirk, State Representative, IA David Ragucci, Mayor, Everett, MA Aaron Reardon, Snohomish County Executive, WA Stephen Reed, Mayor, Harrisburg, PA Eric Miller Reeves, State Senator, NC Peggy Reeves, State Senator, CO Ed Rendell, Governor, PA Ann H. Rest, State Senator, MN Joe Rice, Mayor, Glendale, CO Graham Richard, Mayor, Fort Wayne, IN John Richardson, State Representative, ME Elaine Richardson, State Senator, AZ Bill Richardson, Governor, NM John Riggs IV, State Senator, AR Joe Riley, Mayor, Charleston, SC Stacy J. Ritter, State Representative, FL Carroll G. Robinson, City Councilman, Houston, TX Andrew Romanoff, State Representative,, CO T.J. Rooney, State Representative, PA Samuel Rosenberg, State Delegate, MD Laura Ruderman, State Representative, WA John Ryan, Council Member, Barnegat Township NJ Timothy J. Ryan, State Senator, OH Ken Salazar, U.S. Senator, CO Loretta Sanchez, U.S. Representative, CA Sharon Sanders Brooks, State Representative, MO M. Susan Savage, Mayor, Tulsa, OK Adam B. Schiff, U.S. Representative, CA Jefferey Schoenberg, State Senator, IL Dan Schooff, State Assembly Member, WI Allyson Schwartz, U.S. Representative, PA Timothy Scott, Council Member, Carlisle Borough PA David Scott, U.S. Representative, GA Derrick Seaver, State Representative, OH Kathleen Gilligan Sebelius, Governor, KS Eugene M. Sellers, Vermillion Parish Engineer, Lafayette, LA James Shapiro, City Representative, Stamford, CT Ron Sims, County Executive, King County, WA Adam Smith, U.S. Representative, WA Malcolm A. Smith, State Senator, NY Tyrone Smith, Water Basin Municipal Water District Board Member, Carson CA Rod Smith, State Senator, FL James Smith, House Democratic Leader, SC Eleanor Sobel, State Representative, FL Andrew Spano, County Executive, Westchester Co., NY Carol Spielman, County Board Member, Lake County IL Eliot Spitzer, Attorney General, NY Debbie Stabenow, U.S. Senator, MI Greg Stanton, City Councilman, Phoenix, AZ Gregory R. Stevens, State Representative, IA Larry Stone, Assessor, Santa Clara County, CA Peter Sullivan, State Representative, NH Christopher Travis Swanson, Kern County School Board Member, Tehachapi, CA Daryl Sweeney, Mayor, Carson, CA Harvey D. Tallackson, State Senator, ND Abel J. Tapia, State Representative, CO Ellen Tauscher, U.S. Representative, CA Charleta B. Tavares, City Council Member, Columbus, OH Mark Taylor, Lieutenant Governor, GA Paul Tessier, State Representative, ME William C. Thompson Jr., Comptroller, New York City NY Michael L. Thurmond, State Labor Commissioner, GA Lois Tochtrop, State Representative, CO Charles F. Tooley, Mayor, Billings, MT Tom Udall, U.S. Representative, NM John Unger II, State Senator, WV George Van Til, Surveyor, Lake County IN Tracy Vance, Vice Chairman, Lee Co., IA Juan Vargas, State Assemblymember, CA Jennifer Veiga, State Representative, CO Val Vigil, State Representative, CO Michael Vilarreal, State Representative, TX Tom Vilsack, Governor, IA Val D. Vincent, State Representative, VT Peter Voros, Mayor, Pittsgrove Township NJ Lewis J. Wallace, State Representative, CT Mark Warner, Governor, VA Steven Warnstadt, State Representative, IA Jonathan Weinzapfel, State Representative, IN Jack Weiss, City Council, Los Angeles CA Peggy M. Welch, State Representative, IN Patrick D. Welch, State Senator, IL Steve Westly, State Controller, CA Michael J. Wildes, Mayor, Englewood NJ Anthony Williams, Mayor, Washington, DC J.D. Williams, State Controller, ID Constance Williams, State Senator, PA Earnest Williams, City Councilman, St. Petersburg, FL Suzanne Williams, State Representative, CO Sue Windels, State Senator, CO Philip Wise, State Representative, IA Cathy Woolard, Council President, Atlanta GA David Wu, U.S. Representative, OR David Yassky, City Councilmember, Brooklyn NY Caprice Young, President of the Board of LAUSD, Los Angeles CA

The New American Foundation Asset Building Program explains the importance of gathering asset's data. The new Senate Third Way committee links to four organizations. The DLC, Brookings Institute, the PPI, and this one. Mapping and Mobilizing Community Assets is a communitarian program for house to house datagathering by neighborhood associations.

Here is the letter we sent them on 12/29/04: "To the Honorable members of the U.S. Senate's Third Way Group, It is our thesis that the Third Way is the contrived phoney synthesis in the Hegelian-Marxist dialectic. We have numerous verifying documents to substantiate our claims. We have no documentation to disprove our allegations. We have received not one rebuttal from the Communitarian Network... As per our right under the First Amendment right to a redress of grievances, we would appreciate a statement from your group that directly answers the facts we present as evidence that led to our conclusion in the anti-communitarian manifesto... Our evidence shows the Third Way is a conspiracy to overthrow the legitimate government of the United States. Please provide contrary evidence that your planned agenda meets U.S. constitutional requirements for legitimate government activities.. Respectfully, Niki Raapana Anti-Communitarian League

The New Kid On the Block " Barack Obama: The Dems' freshest face has a new challenge: to help his party relocate its moral core. Meet him—and nine others who will shape our world." By Jonathan Alter, Newsweek Dec. 27 / Jan. 3 issue. (We later learn from Ari Berman in March 2005 that Obama pulled his association with the DLC.)

Salazar believes in bipartisan support By Judith Kohler, Associated Press Writer, 12/07/04.

Some Dems move to the middle Denver Post 12/05.04.

Electoral Politics: D.L.C.: Democrats Love Corporations? Posted by : David Swanson on Saturday, December 18, 2004.

The third rail of American politics CONGRESSMAN TOO TRUTHFUL by: U.S. Congressman Ron Paul - House of Representatives 203 Cannon - Washington D.C. 20515 (posted on a Sacramento Craig's List forum)

New Group to Tout Democrats' Centrist Values; Third Way Plans to Focus On 'Moderate Majority' by John F. Harris (11/11/04)

Turkey's EU bid: a 'third way' looming? euractiv.com 11/19/04.


---
National Press Club Building, Washington, D.C. September 10, 1998. Hosted by the World Institute for Development and Peace and the Center for Economic and Social Justice. Panelists: Dr. Norman A. Bailey, international monetary economist; Norman G. Kurland, President, Center for Economic and Social Justice; Dr. Marcus Raskin, Distinguished Fellow and co-founder, Institute for Policy Studies; Dr. John Schmitt, labor economist, Economic Policy Institute.


---

The British Third Way Party
is embedded into the ruling English system of the the Marxist-Fabian-Labour Party, currently represented under Prime Minister Tony Blair. (The British Fabians merged with Labour in 1904.) Unlike the U.S., English Third Way advocates don't have to hide their socialist orientation from their citizenry, and the British debates prove their advanced grasp of the possibilites. England's homegrown Keynesian economists and Marxist-socialist politicians win elections, and many English honestly believe it means they are more evolved politically. (The ACL hosted and fed 11 dedicated dumpster diving London activists during the Seattle WTO protests for 5 weeks back in '99... we felt the full brunt of their misconceptions about the U.S. ideas of liberty enshrined within our intrinsic private ownership principles.)

Don't Forget Mises -- and Dump the Third Way! by Michael Chapman, 4/10/04.

The third way is dead and Labour can be itself at last Belief in the positive power of government is replacing old tax phobias by Polly Toynbee, Wednesday January 9, 2002.


---

The Israeli Third Way Party
was created in 1994 by general Avigdor Kahalani, "the Third Way can be considered as a Zionist Party," and it is "...especially focused on security matters." There is also an American Organization devoted to a Third Way in the Middle East. Third Way candidate Ehud Barak lost in the last Israeli election (to Ariel Sharon), but this ousted leader was considered to be closely aligned with wealth, Clinton, and Blair (and influential enough with Clinton to be instrumental in gaining a pardon for an Israeli white collar criminal). The Israeli system of government is still a mystery to us, but that they have a distinction between Ashkenazi Jews and Sephardic Jews and show legal favoritism to card carrying communist Jews all indicates we need to spend a lot more time studying the well-established Israeli Zionist Third Way Party.


---

The Third Way in America
is quietly promoted in meetings as the middle ground between the far right and the far left, a more modern Third Way. Bestowing honors on academics and promises to mid-level bureaucrats, progressive sustainable developers create exciting new business opportunities in rebuilt communities, especially for those savvy enough to get in on innovative grant funding. Slipped into U.S. law schools and pilot tested in community courts, American's new more moral new communitarian laws balance the archaic U.S. Constitution against the "common good." Clinton's 1993 Council on Sustainable Development directed our evolution into a completely rebuilt, reinvented America, adding endless overseas possibilities. Progressives looking backward toward a simpler life have new advantages abroad that will expand the Third Way "vision" into all U.S. Colonies. Former U.S. President Clinton and President George Bush Jr. both endorse Third Way programs, and in 2003 Clinton is still giving speeches about it to his friends in British Labour.

The American Revolutionary Party Platform is a wonderful example of how dialectical thinking can be twisted to mean whatever you want it to mean: "The central feature in the platform of the American Revolutionary Party is its proposed Capital Homestead Act. This act calls for a comprehensive restructuring of America's economic policies to grow the economy in ways that create a nation of capital owners, citizens who are independent of big government, big business, and big labor for their economic well-being. This Act is based on the party's Just Third Way philosophy. This philosophy embodies a morality, respect for life and human dignity, and sense of the common good that is more just than socialism (which institutionalizes envy) and capitalism (which institutionalizes greed). Because it is based on changing the system for financing future growth to equalize ownership opportunity, Capital Homesteading will lift poor and middle-income Americans, without redistributing existing wealth from today's tiny ownership elite."

U.S. Congressmen Submit Petitions from American People Calling for Western Sahara Referendum; Their "Third Way" Solution: Ask Morocco to Withdraw from Western Sahara

---

4/20/2003 update
Author Anton Chaitkin's recent article in the April 2003 Executive Intelligence Review provided us with compelling new evidence on the creation of the Third Way Party in America. Our only complaint is that Chaitkin doesn't once mention the communitarian philosophy that sustains the entire Third Way platform. Chatitkin is a throrough researcher who details the Third Way players, just as he detailed all the missing persons in American history in "Treason in America." It was Chaitkin who opened our first credible door to understanding America's past. If you never read any other Larouche Publications, this issue, cover-to-cover, explains more about the current political state of the world than possibly any other publication in English.

According to Chaitkin, the U.S. Third Way is represented by the Democratic Leadership Council (DLC) and their Progressive Policy Research Institute "think tank." Chaitkin tells us the DLC was formed by Al From on March 1, 1985, intitialy aided with funds from the Heritage Foundation chief Ed Feulner. According to the Washington Post, " From wants to escape the liberal-conservative tug of war, which the Democrats inevitably lose, and replace it with a brave new world of "information-age politics," "reciprocal obligation," "innovative non-bureaucratic approaches to governing," and a blizzard of equally ineffable buzz-phrases with which to bewilder GOP strategists." Senator Moynihan appears prominintly in DLC start-up operations, and Chaitkin explains the roles of his "clique," ie: Lynn Forrester who later married Sir Evelyn Rothschild, Elliot Abrams (current chief of Middle East Affairs for NSC), Abram Schulsky, and Gary Schmitt, (later heard of the PNAC).

Chaitkin tells us the Policy Network was created in England at the end of Clinton's presidency to coordinate Third Way efforts between Blair's crony Peter Mandelson and the DLC. Chaitkin further tells us on p. 30 that, "the official channel from the DLC to Blair's 'Third Way' inner council was funded entirely by Sir Evelyn de Rothschild, head of Britain's famous N.M. Rothschild bank," and that a New York mobster named Michael Steinhardt financed and chaired the first DLC board. While the PPI search engine lists no documents for a Michael Steinhardt, nor for Sir Evelyn, Clinton opened his Remarks by the President at DLC Gala in Dec 1994 by saying how glad he was when Michael Steinhardt and Al From joined him on the stage. In this Gala speech Clinton calls community policing "a DLC idea- we've been advocating it for years." (Look who's on the CSDC Board of Directors.)


---

The ACL hypothesis about the future of the Third Way

Take a Look to the Future.

We think the Third Way communitarian synthesis includes Bush's "rebuilding" America into a volunteer citizen's "freedom-for-export" corps trained to "lift" the Muslim world. We also humbly propose that a Third Way solution may develop out of the international discussions and negotiations over the Iraq regime change. It would surely solve the the urgent need for a "not-too-western-democratic... not-too-fundamental-Muslim" system during the "reconstruction" of Iraq. We are devoting much study to the developments in the Middle East. Whatever you think, considering what we've just shown you about the ongoing Third Way Party triangle action, we think you too might agree with the Midwesterners at Milwaukeeworld.com who think that it's probably a bit early to start singing a Requiem for the Third Way.

The Center for Economic and Social Justice presents the synthesis beautifully in their Introduction to the Third Way. The hard right represents the "American thesis" with a scathing piece calling The Third Way "The Clintonista's Latest Darling", and at CESJ's chart we can see how it all works out perfectly in the end.

Iraq may not be "ready" for democracy but consider this: Communitarian law is so slick and efficient, the American people don't even know it's their new law. If the most "democratic" nation on earth can be so easily duped into using this modern version of a well run kibbutz, it won't be long before the Iraqis will also adapt. They'll find that they too cannot live a more moral life without this beautifully prepared Hegelian synthesis. As the Arab world watches in awe, Iraq already prospers under their reinvented system. Why, it's been so successful certainly ALL the Arab nations will soon be begging the coalition forces to liberate them from their national civil unrest. The global government comes down real hard on religion and nationalism, and we can all see that it's futile to resist moral liberators. Like the British, we all know the Third Way is worth following, because, as those liberated Russians are telling us, The Third Way Is Here!


---
As President Clinton told us in his 1994 speech before the Third Way-communitarian Democratic Leadership Council:
[begin quote] We believe American citizenship entails responsibilities as well as rights. And we mean to ask our citizens to give something back to their communities and their country. I believe that, and if you do, we've got a great future. (Applause.)

Now, this is what I want to say to you: You have to decide what your mission is in this new world, because the truth is, we are already making a difference in the new Democratic Party. In the last two years, despite the atmosphere of contentiousness and all the difficulty, more of the DLC agenda was enacted into law and will make a difference in the lives of the American people than almost any political movement in any similar time period in the history of the United States. And you ought to be proud of that.[endquote, emphasis added]


---

The Runaway World Debate- Democracy and Third Way Politics, a 1999 debate hosted by the London School of Economics.

Here's Amitai Etzioni's "Reflections on the Third Way" before the London School of Economics in June 2000.

Congressman Ron Paul's July 2003 "Neo-Conned" speech before the U.S. House of Representatives describes our new "third way" government, copy posted at CitizenReviewOnline.

The Limitations of Civility, Volunteerism, Self-Sufficiency and Empowerment posted by the Eisenhower Foundation.

London's July 2003 Third Way Progressive Governance Summit.


---

[ BACK TO TOP ]

copyright © 2001-2004, Niki Raapana and Nordica Friedrich (The Anti-Communitarian League)